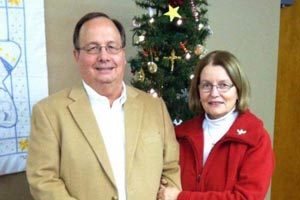 The Westfall Education Foundation and the Pickaway County Community Foundation are pleased to announce that a new fund has been established in memory of Emily Nelson. The Emily Nelson Memorial Fund will enable the Westfall School  District and the Westfall Education Foundation to partner together to provide additional learning opportunities for the district's students. The Westfall Education Foundation wanted this permanent endowment fund to reflect the person that Emily Nelson was, so a fund that supports student learning experiences seems very appropriate. Mrs. Nelson was a well-respected and beloved teacher in the Westfall District for many years, teaching fifth grade and elementary art. She was a great supporter of her students' endeavors and could be seen at events in which they were participating. She also was a thoughtful philanthropist.
Mrs. Nelson was a founding director of the Westfall Education Foundation, where she served as chairperson and treasurer. She also served on the Pickaway County Community Foundation Board, the Pickaway County Library Board, and was an advisor of the Derby Junior Garden Club. Mrs. Nelson always promoted the idea that philanthropists can give not only by sharing their earnings, but also by giving their time and talents to help others. Money for grants from the Emily Nelson Memorial Fund will be generated via investment revenues, continued fundraising and further memorial donations.
Donate To The Emily Nelson Memorial Fund
If you wish to contribute to the Emily Nelson Memorial Fund, donations can be sent to the Pickaway County Community Foundation at 770 N. Court Street, Circleville, Ohio 43113. Donations can also be made online to the Emily Nelson Memorial Fund held at the Columbus Foundation.

More About Emily Nelson
Emily taught for many years as a fifth-grade teacher at Darby Elementary and later at Westfall Elementary.  She finished her career as the art teacher at the elementary school.  Steve and Emily have a long history of supporting the Westfall community. Emily was an original director of the Westfall Education Foundation Board.  She has served the foundation as treasurer and president.  Emily also serves on the Pickaway County Community Foundation Board and the Pickaway County Library Board.  She was a founding member of the Westfall Elementary's Field of Dreams committee, which provides funds for enrichment activities at the elementary. She too has been active in her church, where she has served on committees, and worked with children during Bible School and Sunday School.   
Emily's passion for the Westfall community and its residents, especially the children, has always been evident. In Emily's classroom, there was mutual respect between students and teacher. Emily instilled confidence in her students so that they could learn and grow.  One parent recently remarked how much fun Mrs. Nelson made learning for her children.  And although she imparted knowledge to her students, that's not all she did. She also impressed on students how important it is to not only respect others, but to show and tell others that you care.  She modeled her caring for others.  For instance, she would take snacks and activities to students who had lost a loved one to let them know she was thinking about them during a difficult time.   Emily notices and remembers things about people, and she has a lovely way of making people feel wonderful as she never misses an opportunity to lift people up.  Her interest in her former students did not end when they left fifth grade.  She kept in contact with many of her former students.  Emily and Steve turn up at ball games, class plays and many other events to support the talents and successes of not only her former students, but all Westfall students.  Emily's passion for her profession and her advocacy for the children at Westfall had never ebbed.
In 2012, Emily shared stories of a successful program called Camp Darby which had taken place at Darby Elementary School. The discussion spurred interest among a group of adult volunteers and Derby Junior Garden Club was formed with the help of a partnership of the Westfall Education Foundation, Derby Garden Club, and the Pickaway County Library.  Children can be found every Tuesday morning during the summer in the garden on site of the former Darby School. Emily's inspiration can be found everywhere…the children's painted rocks, the handprint sign and the natural fence of sunflowers. Emily, the science teacher, had them measuring growth of the crops, and journaling about the gardens' progress. Emily the art teacher had them making cards to attach to bouquets of garden flowers that are delivered to the sick or elderly in the community each week. The garden grows with the nurturing and care of the young gardeners. The children enjoy gardening while learning life skills and realize the importance of being part of a community.  She made each young gardener feel special. She had the gift of being able to pick out a child that needs special attention or maybe just needs someone that will take the time to listen. Emily, along with Susan Furness, was instrumental in the completion of the Darby School and Darby Veterans Memorials which are also on the site of the former Darby School.
Emily had yet again another passion, and that is the Westfall Education Foundation.  She put her many talents to work and gave her time to promote and strengthen the foundation.  Emily encouraged her fellow board members to take a chance with having A Party with a Purpose, and she worked to bring this idea to fruition.  Emily knew the generous spirit of the Westfall Community and that there is always support from the district residents for a good cause.  Emily was aware that there are persons, who would give their time, talents and donations so that the Westfall Education Foundation could give opportunities to Westfall students.  Her idea has allowed the Westfall Education Foundation to positively impact the education of the children in this district.  Between 2013 and 2016, the foundation had raised $72,000 from this event because of you, our guests.the community via the Party With A Purpose event.  Emily's positive impact on and commitment to the Westfall Education Foundation is an amazing legacy. She had always reminded us that we can be involved in philanthropy by giving our time, talents and treasures.
Photo Gallery