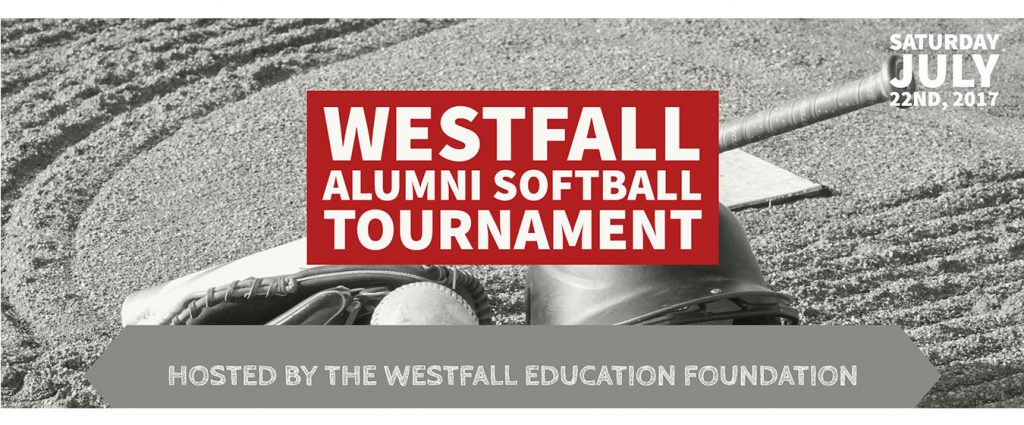 The Westfall Education Foundation will host the 1st Annual Westfall Alumni Softball Tournament. Proceeds from the event will go to the Westfall Education Foundation (WEF) which is a 501(c)(3) non-profit charitable organization. In addition, this event will provide Westfall High School Alumni members an opportunity to participate in an event that promotes fun, teamwork and healthy competition. Together, with help from alumni, we can proudly host the First Annual Westfall Alumni Softball Tournament.
DATE AND TIME
Sat, July 22, 2017
8:00 AM – 11:00 PM EDT
LOCATION
Monroe Youth Athletic Association Ball Fields
18112 Five Points Pike
Mount Sterling, OH 43143
Questions? Contact us at info@westfalleducationfoundation.org
FOR A GOOD CAUSE!
The Westfall Education Foundation is a 501(c)(3) non-profit charitable organization that helps the entire district, K-12, with funding for:
SCHOLARSHIPS
STUDENT OPPORTUNITIES
EDUCATIONAL GRANTS
SCHOOL PROGRAMS
CLASSROOM MATERIALS
Tournament Game Rules
All players must wear athletic shoes or rubber cleats. Metal cleats ARE NOT allowed.

Equal Number of Male/Female Team: Teams should be made up of an equal number of Male and Female players. If numbers are not equal, outs will be assessed.

Game times are set to start on the hour. If you do not have a minimum of 8 players at start time, your team forfeits.

The length of each game is 6 innings or a max of 50 minutes, at which time we will immediately stop play and the score will be final. No Exceptions as we will be playing games on the hour and will need time for teams to clear the bench so the next two teams can get on the field.

Homerun Rule – 2 home runs per game, per team. After the two home runs are hit you may hit more with the cost of a $10 dollar fee per home run hit. If you do not pay the $10 fee the home run is an out.
Team Rules for Eligibility and Lineups
Rosters will consist of a max of 13 players, 5 of which must be FEMALE. If there are 18 players or more in a single graduating class that register, there will be 2 teams for that graduating class. Eligible players are ones that attended at least one year at Westfall.
On offense: All team members bat
On defense: Pitcher, catcher, first base, second base, shortstop, third base, and up to four outfielders
Your team must play as many people on the field as possible up to ten. Everyone must be included. If your team has more than ten people who wish to play, everyone must be given an opportunity to do so.