Westfall Education Foundation's annual Party With A Purpose event is the primary funding source for W.E.F scholarships and educational grants.  Through the community's generosity, we have been able to raise over 100k since 2010.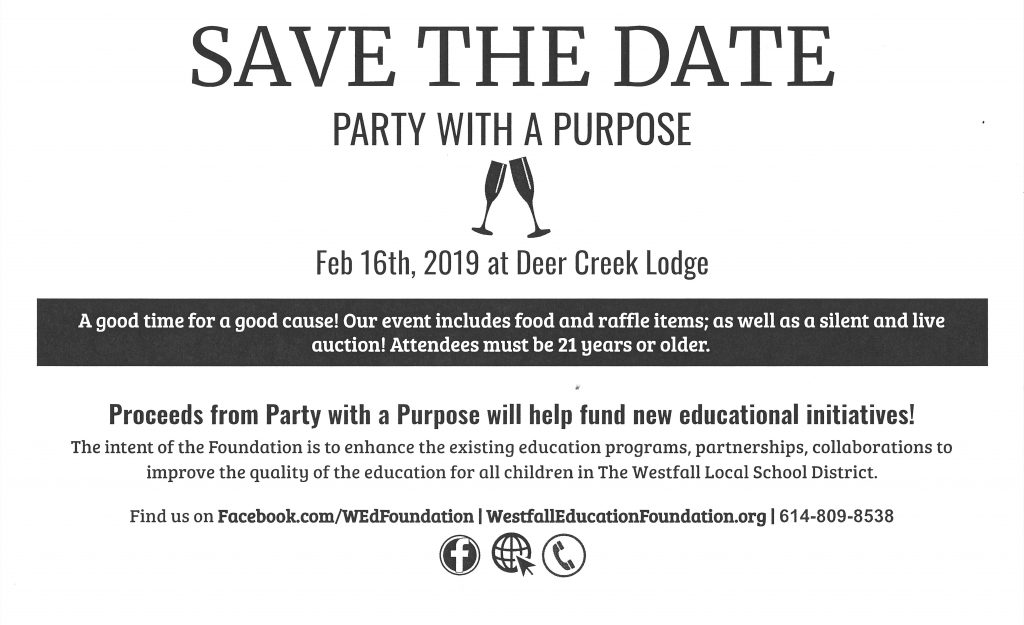 Proceeds from Party with a Purpose will help fund new educational initiatives!
The intent of the Foundation is to enhance the existing education programs, partnerships, collaborations to improve the quality of the education for all children in the Westfall Local School District.

How Can You Help?
Sponsor / Donate
Attend our fundraiser
Become an event helper!
Contact Erin Geiger at: donate@westfalleducationfoundation.org
---
2017 SPONSORS:
MUSTANG LEVEL SPONSORS:
A&M Farms of Mt. Sterling, LLC
Amvets Post #2256 Circleville
Brenda Smith – Derifield
Erica and Mike Robinson, Signature Real Estate
Healthcare Logistics
Jim and Jonnie Hooks
Central Ohio YMCA
Sean and TJ Ruth
The Furniss Corporation Ltd./Andy Furniss
The Savings Bank
Travel by Design by Erin
The Walt Disney World Company, Travel by Design by Erin and the Westfall Education Foundation
Westfall Athletics
Westfall Administration
Michael Putnam of Putnam & Ratcliffe Real Estate and Auction Services, Inc.
Dawn Finch, KW Consultants Realty
---
PARTY WITH A PURPOSE (PWAP) NEWS FEED
The 2019 Party with a Purpose will be held February 16, 2019, at Deer Creek Lodge! Proceeds from the Party with a Purpose will help fund new educational initiatives at Read More …
We appreciate the community's support and thank you for your attendance. Details to come on our  next event soon!
The Westfall Education Foundation's Community Service Scholarship for the 2017/2018 school year will be in honor of one of our founding members, Ginger Beard. The foundation is able to provide opportunities to Read More …
It's that time of year to reflect on our accomplishments. The Westfall Education Foundation Board Members would like to express our appreciation for all those persons who have donated their Read More …
Posted in

Featured, Latest News, Party With A Purpose
Tagged

auction, deer creek, dinner, emily nelson, featured, fundraiser, party with a purpose, Pickaway County, westfall local schools, what we do
Comments Off

on Party With a Purpose & 10 Year Celebration
Save the Date! November 19th, 2016 for Westfall Education Foundation's annual fundraiser: "A Party With a Purpose" Celebrating 10 Years Serving the Westfall Community! Proceeds from A Party with a Purpose will help Read More …
The Westfall Education Foundation is pleased to announce the 2015 PARTY WITH A PURPOSE When: Saturday, November 14, 2015  Time: 5:00 p.m. Where: Crown Hill Golf Clubhouse 9500 US-22, Williamsport, Read More …
Westfall Education Foundation considers it an honor and privilege to award scholarships. The Westfall Service Scholarship was awarded to Matthew Maple and in addition, a designated Service Award in Honor of Read More …